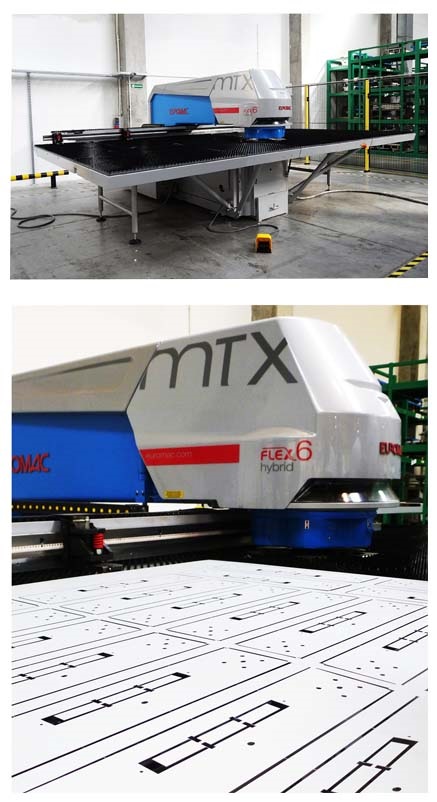 Our company offers punching services, which are rendered as based on provided construction documentation with the use of technologically advanced solutions. We use EUROMAC MTX FLEX 6 punching machine to punch metal sheets.
EUROMAC MTX FLEX 6:
→ Punching force: max. 300 kN
→ X and Y machining area: 1250 mm x 2500 mm
→ Positioning accuracy: +/- 0.1
→ Maximum thickness of the raw material: 0.5-6 mm
→ X + Y axis speed – 80 m / min.
→ Marking – 2000 strokes / minute
→ Punching pitch 1 × 1 mm. sp. – 1000 strokes / min
→ Punching stroke 20 mm. – 375 strokes / min
We use our punching machine when in relatively thin sheets there is a large number of holes in a product. Materials used include steel sheets (including galvanized sheets) and stainless steel sheets. We consider each of your inquiries individually as based on calculations of simulated performance and availability of tools.
Advantages:
→ profiling elements with both complex and the simplest shapes. The types of machines are equipped with multi-tool stores, which can contain up to several dozen different tools at a time. During one production cycle they may use several dozen different punches, which, combined with the lack of restrictions as to spacing of holes, gives enormous production possibilities.
→ high flexibility of work (owing to numerical control) allowing for use of the machines both in unit and large-scale production.
→ the possibility of profiling and then cutting out elements directly from semi-finished products in the form of metal sheets, which additionally increases the technological performance of machines and allows for reduction of materials and labour owing to optimum use of a metal sheet (elements with various shapes can be punched from a single sheet).
→ high measuring accuracy of products
→ low costs
→ quick delivery