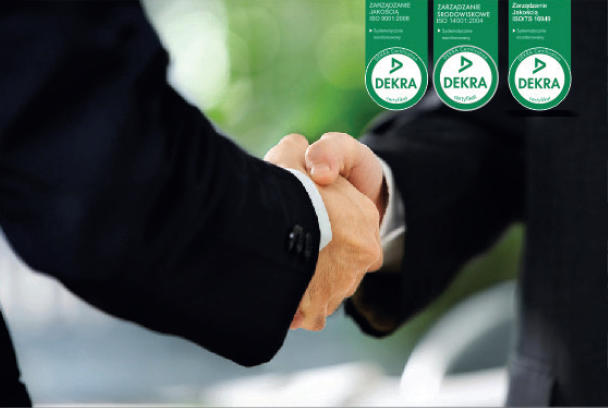 A member of the international Okaya Group
Our only one shareholder is Okaya & Co., Ltd. with a headquarter in Japan, a global owner with undeniable stability, financial and technological capabilities.
Since we are a member of the Okaya group, we have access to the latest technologies, research and materials used in the most technologically advanced Japanese stamping facilities, which are related by capital and business with our owner.
Own laboratory
"Quality is a way of thinking that makes us apply the best available and constantly look for ever better solutions." – E. Deming.
Quality in the PTO is constantly monitored and improved with the help of Quality management systems (ISO 9001 and ISO TS 16949). Engineers and specialists at PTO are working on extending the scope of our services, so that we always have verified technology solutions. In the newly built laboratory, we are able to carry out highly complex statistical research and analyses, which is assisted by the most modern measuring and analytical equipment available on the market.
What can we be proud about?
→ We have an extensive set of measuring instruments. The tests can be performed, among others, on a coordinate 3D measuring machine by Carl Zeiss with an accuracy of up to 7 μm and a large measuring table, or using a measuring arm with a contact-scanning head designed for complex forms and projections of real shapes in 3D (so-called reverse engineering ).
→ We test the content of chemical substances with: Shimazu EDX X-ray and UV-mini spectrophotometer.
→ We are able to perform simple macroscopic examinations of welds or seals and the prepare the samples for further testing.
→ We plan to equip our laboratory with next-generation devices in the near future, which will certainly affect the productionquality.
Own tool shop
Wiemy, że w naszej branży narzędzia to podstawa dobrego produktu. Dlatego w PTO jesteśmy w stanie zbudować niezawodne narzędzia i utrzymać ich sprawność techniczną. Obecnie rozbudowujemy ten obszar działalności, co skraca to czas oczekiwania na efektywne przyrządy, dzięki czemu możemy terminowo wywiązywać się z umów z Kontrahentami.
Nasi projektanci używają zaawansowanych programów CAD, zintegrowanych z modułami CAM narzędziowni, do projektowania w oparciu o modelowanie trójwymiarowe. Regularne szkolenia pozwalają nadążać za światowymi trendami w budowie narzędzi. Ponadto kooperacja z działem Produkcji i Zapewniania Jakości pozwala na rozwój procesu i optymalizację kosztów.
We cooperate with companies such as:
→ AGD: Samsung, V-Zug, Electrolux, BSH
→ AUTOMOTIVE: Gedia, Toyota, Hirtenberger, Bury, Asmet, Autoneum
→ INNE: Rosti, Jabil, Apator, Metpol, LaserStar